We are in the season of Lent, the time of the colour purple. This is an intentional time to come close to God.
You might choose a spiritual practice, make a regular time to pray, to journal, to be kind, to care for the earth. You might choose to let go some of the clutter of our culture and simply be with God.
During this season, we are getting ready to come close to the mystery of Easter. It takes time to enter into or to even come close to a mystery like Easter. Jesus calls us to follow and goes beside us to show us the way. Lives are changed when they cross paths with Jesus. So join us, if you dare as we journey to Jerusalem, From temptation to trust, into the mystery that awaits us, And surrounds us. We go in good company.
Announcements
Sunday
– You are welcome to join us in person or via live-stream for worship. Links to both Facebook and You-Tube are available on our prayer and care page by 1 pm. Or check out our Facebook page and YouTube anytime during the week.
Text versions of services are available on the "Prayer and Care" page of this web-site.
Mondays Cantare Jubilate mixed voices, community choir rehearses 7 – 9 pm, in the Sanctuary.
Tuesdays – Chair Yoga – Contact the office or Donna Bleakney to register. Will resume in April.
Women In Song – women's choir rehearses 7 – 9 pm, in the sanctuary.
On Facebook –
Thursday's you'll find a prayer and upcoming readings for worship.
Friday evening we add another question for "Pilgrim's on the Way", to Facebook and on this page (by Thursday – below).
On Facebook and You-Tube
Saturday's Godly Play videos are rolling. You're also welcome to check out some of the previous weeks' stories.
Mar. 19 – Worship live and live stream.
Service of Remembrance and Celebration for Ray Witt
Mar. 21 – 7 pm Leadership Team meeting
Mar. 22 – 10:15 am Worship at Seasons Retirement
Lens On Lent – RSVP to office "Coda"
Mar. 23 – 7 pm, Worship at Peace Hills Lodge
Mar. 26 – Worship live and live-stream
Mar. 28 – 11 am, Hospital Chapel Service
Mar. 29 – Lens on Lent – RSVP to Office "Till"
Apr. 2 – Palm Sunday Worship live and live-stream – Holy Week begins
April 2 – 9 Online Stations of the Cross
Apr. 7 10:30 am Good Friday service, live and live-stream
Apr. 8 – 7 pm, Easter Vigil online only
Apr. 9 – 10:30 am, Easter worship, live and live-stream with communion
Apr. 11 – Stewardship Team meeting
Apr. 15 – Guides in the building
Apr. 16 – 10:30 am worship live and live-stream
Apr. 18 – 7 pm, Leadership Team meeting
Apr. 22 – Memorial service for Vlad Brecka
Earth Day
Apr. 23 – 10:30 am Worship, live and live-stream
Apr. 24 – 6:30 pm, Spiritual Growth Team meeting
Apr. 26 – 10:15 am, Worship at Season's Retirement
Apr. 30 – 10:30 am, Worship live and live stream ~ Camping Sunday
Wetaskiwin Music Festival begins this week
The Holy Family is on the move …
You're invited to join them on the way, perhaps to Jerusalem or Bethlehem, perhaps to wherever love is find room in you. We've posted some weekly pictures and questions for your spiritual reflection below. We invite you to pace yourself! From time to time there will be updates and prayers along the way.
You can make room in your week for a spiritual pilgrimage or you can begin to log the distances you travel in your walking or cycling (please convert your steps/rides to kilometres or miles) and share them with us every week. We're in Thessaloniki, Greece (8,790 of the 10,114 km from Wetaskiwin to Bethlehem; 10,107 km to Jerusalem). You're welcome to extend the invitation to others.
Pilgrimage – a journey, often into an unknown or foreign place; in search of a new or expanded understanding of self, others, nature, or the holy. You may travel virtually or physically, on your own or accompanied by others, with the same companions or open to those unexpected guests who come and go. Whether you've a specific destination on the horizon, or an inner space of being, you may discover the transformation happens on the way.
Pilgrims on the Way ~
Repentance is a way of living into grace. To step back and look at ourselves, failures, betrayals, misbegotten plans or unjust judgement – recognize the need for course corrections and say thank you for the opportunity to do so, Then ask for the help needed to do it.
I wonder what sin and repentance mean to you?
I wonder how you practice forgiveness?
Forgiveness, like a commuted sentence, doesn't pretend that the judgement was wrong – only that a greater good may be served by extending mercy.
Jesus stops at a well and asks a foreigner, a woman, for a drink of water. In the conversation that follows they share a taste of living water.
I wonder where the Holy has surprised you into conversation?
I wonder for what you thirst?
Pilgrims on the Way ~
"How did those priests get so serious? And preach all that gloom? I don't think God tickled them yet. Beloved – hurry." ~ Teresa of Avila
In this second week of Lent, Jesus is visited by Nicodemus, a …, Nicodemus is curious but bound by his literal interpretation of scripture.
I wonder what questions you would ask of Jesus?
I wonder how scripture makes meaning in you?
Pilgrims on the Way ~
The Hebrew word for mercy has the same root word as womb. Being merciful – allowing someone to live within you. When we are merciful, God is born.
In this first week of Lent, Jesus goes into the wilderness to find out more about who he is and what his work will be.
I wonder how you will let God be born anew in you this Lenten season?
I wonder how you will discover God's purpose through you?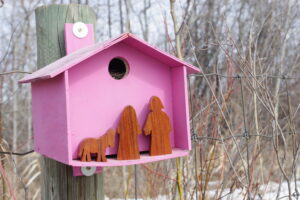 Week 86 – Rest
Pilgrims on the Way ~ "Now the sun has set. I sit and rest, and think of you. Give my weary body peace. Let my arms and legs stop aching. Let my nose stop running. Let my head stop thinking. Let me sleep in your arms." ~ Maggie Oman
I wonder how you receive the gift of rest?
Pilgrims on the Way ~
"Play is a response to a summons we all receive; discover who you are, where your curiosities lead you; what gives you life and joy; and what lies within you waiting to be brought forth?" ~ Marilyn McEntyre