First United Church is a welcome place to explore familiar faith and new ways of coming close to the holy. We are a worshiping and faith-living community that encourages, inspires and acts in this world God loves. There are so many voices and expectations that clamour for our attention, it is not always easy to discern God's call to live justly, to practice kindness and humility. Being part of a community of faith helps. We are stronger together! If you'd like to learn more, make a difference, grow in your faith, get involved!
Announcements
Sundays – "Sunday Singers" gather in the lower hall at 9:30 am
You are welcome to join us in person or via the live-stream for worship at 10:30 am or on Facebook or You-tube anytime during the week.
There are a variety of services and Godly Play stories already on line with which to reconnect and refresh.
Mondays 9:30 to 10:30 am ~ Bible Study – John's Gospel
Cantare Jubilate mixed voices, community choir rehearses 7 pm.
Tuesdays – Women In Song – women's choir rehearses 7 pm
On Facebook –
Thursday's you'll find a prayer and upcoming readings for worship.
Friday evening we add another quote/question for "Pilgrim's on the Way", to Facebook.
On Facebook and You-Tube
The Godly Play room is posting each Saturday morning!
You're welcome to check out some of the previous weeks' stories.
Nov. 26 – 10:30 am, worship live and live-streamed
Nov. 27 & 28 – Community Kitchen is cooking
Dec. 3 – Advent 1, Sacrament of Communion – worship live and live-streamed; Fundscrip orders due
Dec. 5 – 7 pm, Carol Festival
Dec. 10 – Advent 2, 10:30 am Pageant Sunday, worship live and live-streamed;
2 pm, Women in Song Concert
Dec. 13 – 10:20 am worship at Seasons Retirement
7 pm, Cantare Jubilate Concert
Dec. 14 – Christmas Shop at Parkdale School
Dec. 15 – Norquest College is in the building
Dec. 16 – Girl Guides are in the building
Dec. 17 – Advent 3, 10:30 am worship live and live-streamed, a quiet time for healing and hope
Dec. 18 & 19 – Community Kitchen is cooking
Dec. 24 – 10:30 am, Advent 4, worship live and live-streamed
7 pm, Christmas eve with candles and communion
Dec. 25 – Jan. 2 Office open limited hours only. Please call ahead.
The Holy Family is on the move …
We have completed the 10,114 km from Wetaskiwin to Bethlehem; 10,107 km to Jerusalem.
Thanks to everyone who walked, jogged, cycled or cheered along the way. We will continue to post some images and wondering into the Advent season.
Pilgrimage – a journey, often into an unknown or foreign place; in search of a new or expanded understanding of self, others, nature, or the holy. You may travel virtually or physically, on your own or accompanied by others, with the same companions or open to those unexpected guests who come and go. Whether you've a specific destination on the horizon, or an inner space of being, you may discover the transformation happens on the way.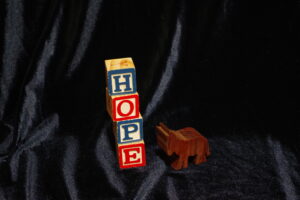 Pilgrims on the Way ~
In this first week of Advent we light a candle for hope.
We remember all those who wait with or without hope in refugee camps, by hospital beds, at foodbanks and remand centres, and so many situations of which we know nothing. We add our yearning and our trust that the Light ever seeks to find a way in, to kindle hope. We light a candle as part of our commitment to building peace and reconciliation with the land. May it be a sign of hope for all who wait.
"They shall beat their swords into plowshares

and their spears into pruning hooks;
nation shall not lift up sword against nation;
neither shall they learn war any more;" Micah 4:3b

I wonder what we need to unlearn about war in order to learn peace better?
Peace begins with a smile – Mother Teresa
I wonder for whom your smile will be peace this week?

Blessed are the peacemakers, for they will be called children of God. Matthew 5:9
Love your enemies and pray for those who persecute you, Matthew 5:44
I wonder how you honour the child of God in those you meet?
Pilgrims on the Way ~
"Lord make me an instrument of your peace,
Where there is hatred let me sow your love."
~ St. Francis of Assisi
I wonder what message you will be this week?
Pilgrims on the Way ~
If you want to go fast, go alone. If you want to go far, go together. African proverb
"Therefore, since we are surrounded by so great a cloud of witnesses, let us also lay aside every weight and the sin that clings so closely, and let us run with perseverance the race that is set before us." ~ Hebrews 12:1
I wonder how community inspires your living?