Welcome! We are a group of seekers who welcome each other to journey together to explore and better understand what the Spirit is saying to us. We are an Affirming Ministry, acknowledging that God's love is wider and more inclusive than we can imagine, let alone live out. Affirming congregations commit themselves to sharing that news with others who may have heard a quite different message about what it means to be church. Affirming Ministries are Public, Intentional and Explicit in the welcome extended to all. By accepting the welcome offered to each one of us as individuals, we encounter God's inclusive love for humankind in all its wonderful diversity. Whether this is one of many or your first time taking part in this faith community, we hope that your Spirit finds rest and renewal and your awareness of the gift of God's love is deepened.
Welcome to First United Church!
Announcements
Sunday
– You are welcome to join us in person or via live-stream for worship. Links to both Facebook and You-Tube are available on our prayer and care page by 1 pm. Or check out our Facebook page and YouTube anytime during the week.
Text versions of services are available on the "Prayer and Care" page of this web-site.
Mondays Cantare Jubilate mixed voices, community choir rehearses 7 – 9 pm, in the Sanctuary.
Tuesdays – Chair Yoga – Contact the office or Donna Bleakney to register.
Women In Song – women's choir rehearses 7 – 9 pm, in the sanctuary.
On Facebook –
Thursday's you'll find a prayer and upcoming readings for worship.
Friday evening we add another question for "Pilgrim's on the Way", to Facebook and on this page (by Thursday – below).
On Facebook and You-Tube
Saturday's Godly Play videos are getting rolling. You're also welcome to check out some of the previous weeks' stories.
Feb. 2 – 7 pm, worship at Peace Hills Lodge
Feb. 5 – Live and live-stream worship; Sacrament of Communion, Fundscrip orders due
Feb. 12 – Live and live-stream worship; Fundscrip orders ready for pick up
Feb. 15 – Interagency Meeting at Church of God – Blanket Excercise
Feb. 18 – 9:30 am, Story Circle via Zoom
Feb. 19 – Live and Live-strea worship
Feb. 20 – Office Closed ~ Enjoy some family time!
Feb. 21 – 7 pm, Leadership Team meets
Feb. 22 – 10:15 am, Worship at Seasons Retirement
2 pm, Hedy Klause Memorial Service
7 pm, Ash Wednesday Gathering – Lament and Hope
Feb. 25 – Girl Guides in the Building
Feb. 26 – Annual Meeting following worship (in person and via Zoom)
Feb. 28 – 4:15 pm, Spiritual Growth Team meeting
The Holy Family is on the move …
You're invited to join them on the way, perhaps to Bethlehem, perhaps to wherever love is waiting to be born in you. We've posted some weekly pictures and questions for your spiritual reflection below. We invite you to pace yourself! From time to time there will be updates and prayers along the way.
You can make room in your week for a spiritual pilgrimage or you can begin to log the distances you travel in your walking or cycling (please convert your steps/rides to kilometres or miles) and share them with us every week. We're about 3/4 of the way there (7,260 of the 10,114 km from Wetaskiwin to Bethlehem). You're welcome to extend the invitation to others.
Pilgrimage – a journey, often into an unknown or foreign place; in search of a new or expanded understanding of self, others, nature, or the holy. You may travel virtually or physically, on your own or accompanied by others, with the same companions or open to those unexpected guests who come and go. Whether you've a specific destination on the horizon, or an inner space of being, you may discover the transformation happens on the way.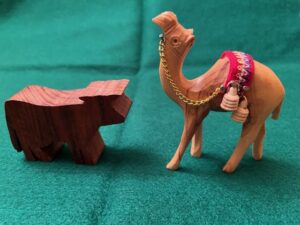 Week 84 – Friendship
Pilgrims on the Way ~
"Never forget, that once upon a time, in an unguarded moment, you recognized yourself as a friend." ~ Eat. Pray. Love. I wonder what new wisdom you have gained from friendships?
"'Yes!' and 'Thank you!' the most important prayers we can say. Not just for God but because they bring us back into alignment." ~ Marilyn McEntyre I wonder how you have said 'Yes!' to God recently?
Pilgrims on the Way ~
"The seeds of joy are everywhere in life. Walk as if you are kissing the earth with your feet."
~ Thich Naht Hahn
I wonder what new pathways you've discovered recently?
Pilgrims on the Way ~
"I am in the house of mercy and my heart is a place of prayer." ~ Rumi
I wonder where mercy and goodness find a home in you?
Pilgrims on the Way ~ Jan. 6 is the Feast of Epiphany. It is also a season that guides us toward Lent. Epiphany, apart from being a fun word to say, is about those "aha" moments. Wisdom that illuminates our lives and beckons us to adventure, just as the Magi set out to follow the wild star. Mysteries are revealed and we find God at work in moments and beyond time. I wonder what new insight is calling to you?
Pilgrims on the Way ~
The choices we make with our money change the world. Go on a quick hunt around your home for three items: a banana (or some tropical fruit), an electronics gadget and a shirt. For each item, determine as best you can: Where it was grown or manufactured? How far it travelled to reach you? How much money the person who harvested or made it earns. I wonder what you learned?