Welcome to First United Church
The prophets call us to journey into mystery.
A voice cries in the wilderness, Are you ready?
Mary and Joseph say "Yes", without knowing where it will lead them.
A voice cries in the wilderness, Are you ready?
Good news rings out to the lowliest and least.
A voice cries in the wilderness, Are you ready?
For those who wait through the night, hope shines.
A voice cries in the wilderness, Are you ready?
Ready or not, God comes close to us, in this Advent season and throughout the year.
Come join the journey!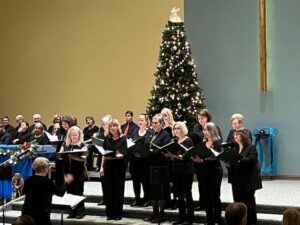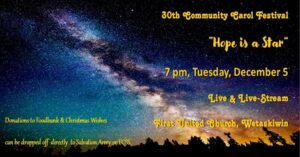 "Hope is a Star that shines in the night …"
I wonder how you share the light?
The 30th Annual Carol Fest was live and live-stream (Facebook and You-Tube generic links below) at 7 pm, Dec. 5, 2023.
Your "admission" is a non-perishable item, gift or cash donation for the local foodbanks, Christmas Giving Tree (FCSS). You can drop them off at the agency of your choice during the coming week!
You're invited to be part of a faith community that cares,
worships weekly and is active during the week in strengthening community. Sunday worship is at 10:30 am in person and on-line anytime. Doors open at 10:00 am and worship starts at 10:30 am. We also Live-stream to our Facebook page and You-Tube channel each Sunday morning. Links for Memorial Services held at our site can be found on the "Memorials" page of this site.
God calls us to create a community of faith where all are welcome and encouraged to participate fully. No matter where you are from, when you were born, how you self-identify, whom you love, or what you believe. We are a community that encourages free inquiry and searching. We are intentional about creating a safe space where diversity (such as age, sexual orientation, gender identity, health, ability, race, socio-economic status or belief) is valued, even when it challenges us. We do this by living God's welcome, seeking to love as Jesus Christ loves and laughing with the Spirit along the way.